Welcome to The Museum of Kortedala
Kortedala is a residential district of Gothenburg, which was developed in the years 1953–1957. It was built as a model town district, with affordable housing and commercial and community services, based on the modern, ambitious and socially aware town-planning ideas of the time. Today it is a legacy of the Swedish government's vision in the 50's, of the 'peoples' home'; folkhemmet.
The Museum
The Museum of Kortedala is a reconstructed private home in a preserved two-room flat, completely furnished with original furniture and personal belongings, to reflect a typical dwelling of a young family in the period 1955–1965.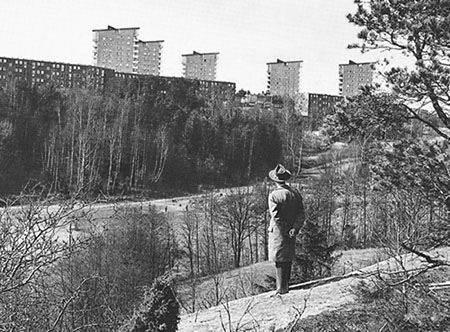 The museum was created in 1994 by the inhabitants of Kortedala as a community museum.
Guides bring modern history to life, by sharing, explaining and relating stories from their own lives as young residents in Kortedala.
Opening hours
The museum is open regular Sundays only, between 12 pm and 3 pm. Group bookings are welcome, also for international visitors. Please book by phoning: +46 (0)31-48 59 40 or send an e-mail: info@kortedalamuseum.se.
Museum address
The address is Adventsvägen 1, in the area of Kortedala in the eastern part of Gothenburg.